Topic: Collection export to CSV, private community events, MtG movie
Collection export
Yay, the much requested feature is finally here. In the View drop down menu of your Inventories, Tradelists and Wishlists you can now find an Export option. In the dialog that opens you will be able to chose which columns to be present in the export file.
As usual, let us know what works, what doesn't, and what's missing.

. (By the way, the guys with more than 5k-10k distinct cards in their inventory and a lot of detail information on them, expect exports to be in excess of 1MB in size, and to take around 10-20 seconds).
Communities and user profiles
We've got various cosmetic fixes and improvements in other areas as well:

the ability to create private events for communities

signup time is tracked for event participants, hovering over a name will show the time he signed up (useful for first-come-first-served things)

the Edit Profile page is simpler now, and things dealing with preferences have been moved to a new Settings page
Spam
Sadly, it looks like even small tcg websites cannot escape the spam industry

. If you have received any spam email last week from deckbox, we are sorry. We've banned the offending accounts, and set up some monitoring tools, and a captcha on the email send page, so we should be safe.
Tap: Max´s Game
Last but not least, we've received some information about an independent Czech independent movie about Magic the Gathering. We wish the director / producer Kamil Beer and entire cast a hearty Good luck, and we hope people will warmly welcome this and other productions about trading card games.
The movie is a small-budget, non-profit production that will be released on the internet for free and in independent cinemas for a symbolic entry fee. You can find an overview by the director below. Don't forget to visit their website: http://maxovahra.com/?lang=en and their facebook page.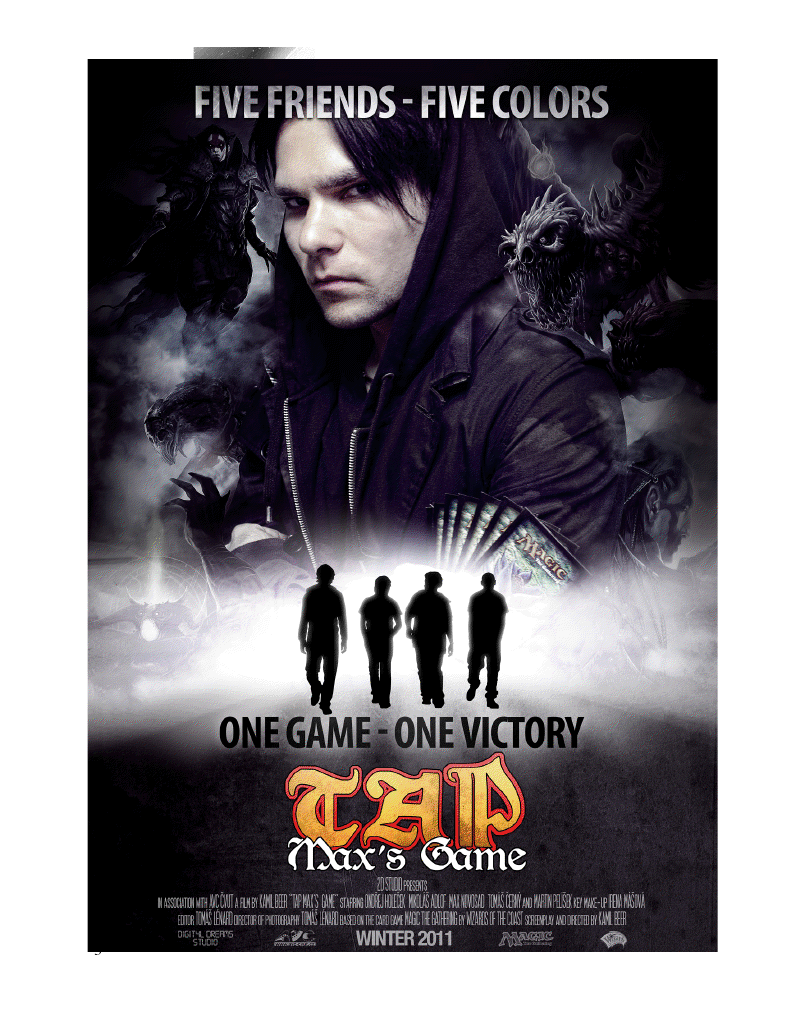 About the film

Tap: Max´s Game is a Czech independent film, a sports drama, produced by 2D studio in coproduction with AVC ČVUT. Written and directed by Kamil Beer. Directors of photography Tomáš Lénárd, Petr Pulc and AVC ČVUT. Editor Tomáš Lénárd. Musical score composed by Stanislav Ferko, author of the Srdce musical and Srdcefest organisator. Max´s Game is the first film inspired by the card game Magic: the Gathering, played by over six million people around the world. This unique independent film, dedicated not only to Magic players and fans of the sports drama genre, tells an exciting story about the strength of a true friendship.

Max´s Game began only as a thought. The film´s writer and director, Kamil Beer, was listening to Rocky IV soundtrack every morning while traveling to school, and imagined the film scenes.

He met Tomáš Lénárd and with their first film crew, they commenced the shooting. The cinematography wasn´t going as expected, though, so a year after, they welcomed Petr Pulc of AVC ČVUT along with his colleagues into the crew and began reshooting. The team consisted of Kamil Beer as the director, Jana Machová as the assistant director and Ladislav Vitouš and Jana Alferyová as the much needed motivators. After a national casting, the Key Make-up Irena Mášová found her way to the team and slowly, the film crew gained many talented members, united after a common goal.
Official trailer