Jugan Defends the Temple // Remnant of the Rising Star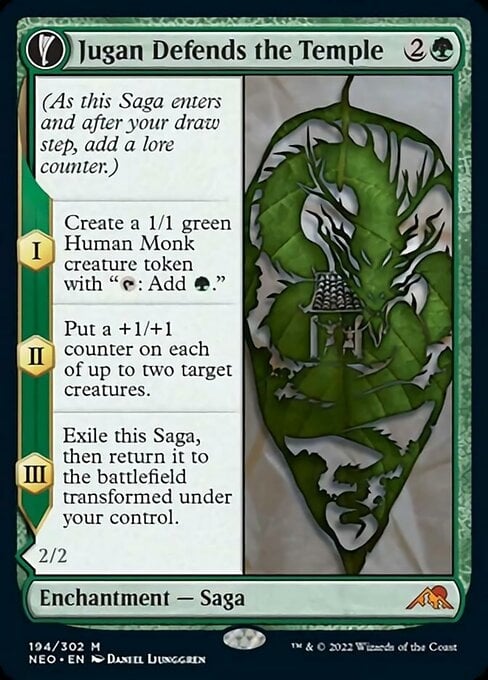 Sign up to add this card to your
Inventory, Wishlist or Tradelist
, and to start creating decks with it. We also have an excellent trading opportunities finder tool that gets you trading in seconds!
It only takes 30 seconds to sign up. You can start by
Clicking here
.

Prices
Average Deckbox Price

$0.75
-
$1.61
Min price of the total
22
cards for sale
$0.70

Statistics

286
tradelists

210
wishlists

245
decks
Browse Deck Database
Translations
Jugan Defends the Temple // Remnant of the Rising Star Jugan Difende il Tempio // Spoglie della Stella Nascente Jugan defiende el templo // Restos de la estrella ascendente Jugan Defende o Templo // Resquício da Estrela Ascendente 珠眼戍卫神社 // 珠眼遗形 Jugan défend le temple // Vestige de l'étoile ascendante Дзюган Защищает Храм // Огарок Восходящей Звезды Jugan verteidigt den Tempel // Relikt des aufstrebenden Sterns 珠眼の寺守り // 昇る星の残影 珠眼戍衛神社 // 珠眼遺形 주간이 사원을 지키다 // 떠오르는 별의 잔해
Formats
Standard:

Legal

Pioneer:

Legal

Modern:

Legal

Legacy:

Legal

Vintage:

Legal

Commander (EDH):

Legal

Brawl:

Legal

Draft:

Legal

Cube:

Legal

Tiny Leaders:

Legal

Pauper:

NotLegal

Singleton:

Legal

Premodern:

NotLegal

Oathbreaker:

Legal

Fat Stack:

Legal

Prismatic:

Legal

Vanguard:

Legal

Historic:

Legal

Other:

Legal

Rules
(As this Saga enters and after your draw step, add a lore counter.)
I — Create a 1/1 green Human Monk creature token with ": Add ."
II — Put a +1/+1 counter on each of up to two target creatures.
III — Exile this Saga, then return it to the battlefield transformed under your control.
//
Flying
Whenever another creature enters the battlefield under your control, you may pay . When you do, put X +1/+1 counters on that creature.
As long as you control five or more modified creatures, Remnant of the Rising Star gets +5/+5 and has trample. (Equipment, Auras you control, and counters are modifications.)
Mana Cost
Type
Enchantment - Saga // Enchantment Creature - Dragon Spirit

Deckbox Sellers

Click on any seller to visit their profile and see what else they have for sale or for trade. You can also
visit your purchase opportunities page
filtered by this card, to see at a glance the best seller offers.
Seller Name
Trade Score
Card Details
#
Price
Anoop Shekar
373 (99%)
1

$0.70

Add to Cart
Meowcaroni
48 (100%)
1

$0.70

Add to Cart
josh mastropietro
53 (98%)
2

$0.77

Add to Cart
josh mastropietro
53 (98%)
2

$0.78

Add to Cart
josh mastropietro
53 (98%)
4

$0.84

Add to Cart
Eric Strach
650 (100%)
2

$0.91

Add to Cart
josh mastropietro
53 (98%)
2

$0.98

Add to Cart
T. S. Jennett
248 (98%)
1

$0.98

Add to Cart
Eric Strach
650 (100%)
1

$0.99

Add to Cart
josh mastropietro
53 (98%)
1

$1.71

Add to Cart
josh mastropietro
53 (98%)
1

$2.29

Add to Cart
Commander_Bacon
674 (98%)
2

$2.49

Add to Cart
T. S. Jennett
248 (98%)
1

$3.38

Add to Cart
Commander_Bacon
674 (98%)
1

$4.49

Add to Cart