Kumano Faces Kakkazan // Etching of Kumano - Kamigawa: Neon Dynasty, # 152

- This is the only printing of this card.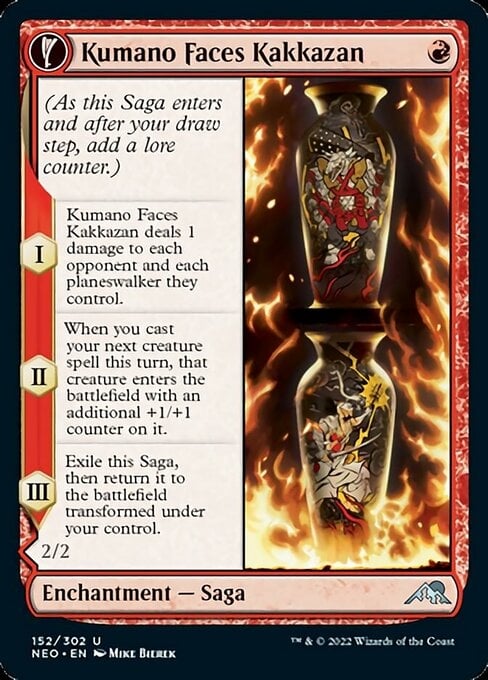 Sign up to add this card to your
Inventory, Wishlist or Tradelist
, and to start creating decks with it. We also have an excellent trading opportunities finder tool that gets you trading in seconds!
It only takes 30 seconds to sign up. You can start by
Clicking here
.

Prices
Report pricing error
Average Deckbox Price
$0.23

$0.34
Min price of the total
73
cards for sale
$0.15

Statistics

476
tradelists

16
wishlists

444
decks
Browse Deck Database
Translations
Kumano Faces Kakkazan // Etching of Kumano Kumano Affronta Akkazan // Incisione di Kumano 熊野と渇苛斬の対峙 // 熊野の食刻 Кумано Встречается с Каккадзан // Гравировка Кумано Kumano contra Kakkazan // Grabado de Kumano 쿠마노가 카카잔과 맞서다 // 쿠마노의 동판화 熊野大戰渴苛斬 // 熊野蝕刻像 Kumano affronte Kakkazan // Gravure de Kumano Kumano konfrontiert Kakkazan // Bildnis von Kumano Kumano Enfrenta Kakkazan // Gravura de Kumano 熊野大战渴苛斩 // 熊野蚀刻像
Formats
Standard:

Legal

Pioneer:

Legal

Modern:

Legal

Legacy:

Legal

Vintage:

Legal

Commander (EDH):

Legal

Brawl:

Legal

Draft:

Legal

Cube:

Legal

Tiny Leaders:

Legal

Pauper:

NotLegal

Singleton:

Legal

Premodern:

NotLegal

Oathbreaker:

Legal

Fat Stack:

Legal

Prismatic:

Legal

Vanguard:

Legal

Historic:

Legal

Other:

Legal

Rules

(As this Saga enters and after your draw step, add a lore counter.)


I — Kumano Faces Kakkazan deals 1 damage to each opponent and each planeswalker they control.
II — When you cast your next creature spell this turn, that creature enters the battlefield with an additional +1/+1 counter on it.
III — Exile this Saga, then return it to the battlefield transformed under your control.
//
Haste
If a creature dealt damage this turn by a source you controlled would die, exile it instead.
Mana Cost
Type
Enchantment - Saga // Enchantment Creature - Human Shaman

Deckbox Sellers

Click on any seller to visit their profile and see what else they have for sale or for trade. You can also
visit your purchase opportunities page
filtered by this card, to see at a glance the best seller offers.
Seller Name
Trade Score
Card Details
#
Price
Tim Hogan
463 (100%)
2

$0.15

Add to Cart
Ben Dearnaley
102 (100%)
1

$0.20

Add to Cart
Michael Wetter
28 (100%)
3

$0.21

Add to Cart
Two to Twain
56 (100%)
2

$0.24

Add to Cart
Meowcaroni
48 (100%)
2

$0.24

Add to Cart
Anoop Shekar
373 (99%)
3

$0.25

Add to Cart
InterestingKiwi
113 (100%)
2

$0.25

Add to Cart
Eric Strach
650 (100%)
10

$0.25

Add to Cart
AlmightySenator
810 (96%)
4

$0.27

Add to Cart
kiwax
30 (100%)
10

$0.32

Add to Cart
Eric Strach
650 (100%)
2

$0.35

Add to Cart
Commander_Bacon
674 (98%)
8

$0.49

Add to Cart
AlmightySenator
810 (96%)
15

$0.49

Add to Cart
InterestingKiwi
113 (100%)
1

$0.50

Add to Cart
kiwax
30 (100%)
1

$0.51

Add to Cart
DragonfyreGames
205 (99%)
1

$0.86

Add to Cart
Bradley Clark
183 (100%)
2

$0.95

Add to Cart
Commander_Bacon
674 (98%)
4

$0.99

Add to Cart