Dr. Boom!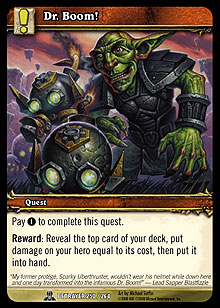 Type line
Quest
Rules
Pay (1) to complete this quest.
Reward: Reveal the top card of your deck, put damage on your hero equal to its cost, then put it into hand.
Cost / Att / H
- / - / -
Edition

Servants of The Betrayer (Common)

Users having Dr. Boom!
Found 4 users
4
total results
Page 1 of 1

Latest decks using Dr. Boom!

Click here
to see more decks containing Dr. Boom!.