Kim'jael Indeed!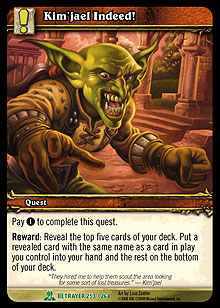 Type line
Quest
Rules
Pay (1) to complete this quest.
Reward: Reveal the top five cards of your deck. Put a revealed card with the same name as a card in play you control into your hand and the rest on the bottom of your deck.
Cost / Att / H
- / - / -
Edition

Servants of The Betrayer (Uncommon)

Users having Kim'jael Indeed!
Found 1 users
1
total results
Page 1 of 1

Latest decks using Kim'jael Indeed!
Name
User
Class / Hero
No decks found. Why not create one yourself? :)