Mark V Is Alive!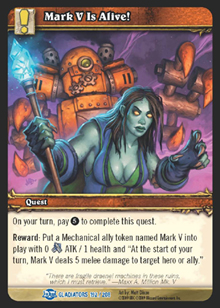 Type line
Quest
Rules
On your turn, pay (5) to complete this quest.
Reward: Put a Mechanical ally token named Mark V into play with 0 [Melee] ATK / 1 health and "At the start of your turn, Mark V deals 5 melee damage to target hero or ally."
Cost / Att / H
- / - / -
Edition

Blood of Gladiators (Rare)

Users having Mark V Is Alive!
Found 5 users
5
total results
Page 1 of 1

Latest decks using Mark V Is Alive!

Click here
to see more decks containing Mark V Is Alive!.