To Arms!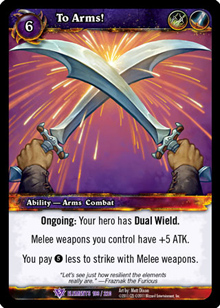 Type line
Ability - Arms Combat
Rules
Ongoing: Your hero has Dual Wield.

Melee weapons you control have +5 ATK.

You pay (5) less to strike with Melee weapons.

Cost / Att / H
6 / - / -
Edition

War of the Elements (Epic)

Users having To Arms!
Found 8 users
8
total results
Page 1 of 2
Next

Latest decks using To Arms!

Click here
to see more decks containing To Arms!.