Tamiyo's Safekeeping - Kamigawa: Neon Dynasty, # 211

- This is the only printing of this card.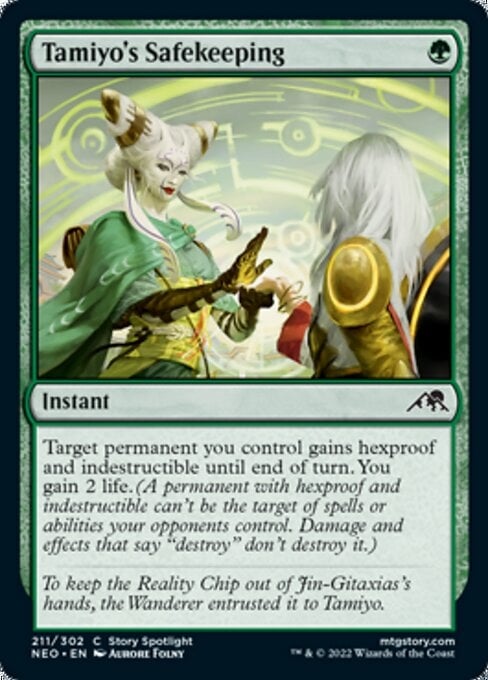 Sign up to add this card to your
Inventory, Wishlist or Tradelist
, and to start creating decks with it. We also have an excellent trading opportunities finder tool that gets you trading in seconds!
It only takes 30 seconds to sign up. You can start by
Clicking here
.

Prices
Report pricing error

Statistics

459
tradelists

33
wishlists

1225
decks
Browse Deck Database
Translations
Tamiyo's Safekeeping Salvaguardia di Tamiyo Sauvegarde de Tamiyo 타미요의 보호 Custódia de Tamiyo Protección de Tamiyo タミヨウの保管 多美代佑護 多美代佑护 Охранение Тамиё Tamiyos Bewahrung
Formats
Standard:

Legal

Pioneer:

Legal

Modern:

Legal

Legacy:

Legal

Vintage:

Legal

Commander (EDH):

Legal

Brawl:

Legal

Draft:

Legal

Cube:

Legal

Tiny Leaders:

Legal

Pauper:

Legal

Singleton:

Legal

Premodern:

NotLegal

Oathbreaker:

Legal

Fat Stack:

Legal

Prismatic:

Legal

Vanguard:

Legal

Historic:

Legal

Other:

Legal

Rules
Target permanent you control gains hexproof and indestructible until end of turn. You gain 2 life.

(A permanent with hexproof and indestructible can't be the target of spells or abilities your opponents control. Damage and effects that say "destroy" don't destroy it.)

Mana Cost
Type
Instant
Flavor
To keep the Reality Chip out of Jin-Gitaxias's hands, the Wanderer entrusted it to Tamiyo.

Deckbox Sellers

Click on any seller to visit their profile and see what else they have for sale or for trade. You can also
visit your purchase opportunities page
filtered by this card, to see at a glance the best seller offers.
Seller Name
Trade Score
Card Details
#
Price
DragonfyreGames
205 (99%)
1

$0.35

Add to Cart
Jason Prescott
1067 (99%)
2

$0.75

Add to Cart
InterestingKiwi
113 (100%)
1

$0.75

Add to Cart
Bradley Clark
183 (100%)
2

$0.95

Add to Cart
Meowcaroni
48 (100%)
2

$1.22

Add to Cart
Commander_Bacon
674 (98%)
12

$1.25

Add to Cart
Tim Hogan
463 (100%)
2

$1.25

Add to Cart
Josh Sellmeyer
43 (100%)
1

$1.25

Add to Cart
Eric Strach
650 (100%)
6

$1.43

Add to Cart
AlmightySenator
810 (96%)
3

$1.54

Add to Cart
kiwax
30 (100%)
5

$1.97

Add to Cart
LoGeek Club
6 (100%)
1

$1.99

Add to Cart
Eric Strach
650 (100%)
2

$4.44

Add to Cart
Commander_Bacon
674 (98%)
1

$5.99

Add to Cart
kiwax
30 (100%)
2

$6.50

Add to Cart
AlmightySenator
810 (96%)
5

$8.77

Add to Cart